GOOP
is one of my favorite newsletters I get each week written by
Gwenyth Paltrow
. Each issue shares information on a different category: make, go, get, do, be, see.
I have been curious about turkey meatballs for sometime so last week's "
make
" post was a Sunday dinner that I had to try (minus the peas). I did make a few minor adjustments: spaghetti squash instead of spaghetti (trying to stick within our calorie limit for the cleanse!), asiago cheese instead of parmesan (it's what was in the fridge) and a little extra garlic all the way around...ABSOLUTELY delicious!! I made a double batch in an effort to use more of the fresh herbs and froze 1/2 of them without the sauce.
Definitely a keeper!
GARLIC BREAD
SERVES: 4
TIME: 15 minutes
1/4 cup (1/2 stick) lightly salted butter, room temperature
5 cloves garlic, pushed through a press
1 tablespoon finely chopped parsley
1/4 teaspoon freshly ground black pepper
1 baguette
1/2 cup finely grated parmesan
Preheat the oven to 375ºF.
Stir together the butter, garlic, parsley and pepper until well combined. Cut the baguette in half horizontally and spread each cut side with the garlic butter, being sure to use every last bit. Sandwich the bread back together, wrap in a sheet of tin foil and put in the oven for 10 minutes. Turn on the broiler, unwrap the bread, evenly sprinkle the parmesan over both sides of the bread and broil until the cheese is melted and browned. Check after one minute. I burn mine by accident 50% of the time, so keep an eye out! Cut into pieces and serve.
JULIA'S TURKEY MEATBALLS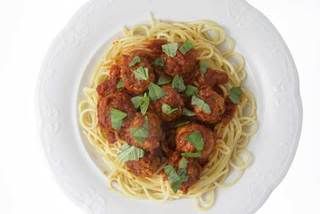 SERVES: 4 (makes about 2 dozen small meatballs)
TIME: an hour, plus at least 20 minutes of simmering
2 tablespoons olive oil plus 2 additional tablespoons
1 large yellow onion, very finely diced
3 cloves garlic, peeled and minced
2 teaspoons fennel seeds
coarse sea salt
freshly ground pepper
1 28 oz. can whole tomatoes, pulsed in a food processor with their juice or crushed by hand
1/2 cup panko breadcrumbs
zest of 1/2 lemon
1/4 cup finely chopped flat-leaf parsley
1 tablespoon finely chopped fresh thyme
1 teaspoon finely chopped fresh rosemary
1 pound ground turkey (preferably dark meat)
1 egg
1 pound spaghetti, cooked just before serving
1/4 cup basil leaves, roughly torn
Heat two tablespoons of olive oil in a large Dutch oven over medium heat. Add the onion and cook for about eight minutes, sweating it without giving it too much color. When it's soft, add the garlic and fennel seeds and season generously with salt and pepper (about a teaspoon of salt and a half teaspoon of pepper should do). Sauté for an additional three or four minutes. Remove and reserve half of this onion mixture in a large mixing bowl. Add the tomatoes and their juice to the remaining mixture in the pot, turn the heat to low and simmer while you make the meatballs. Be sure to put a little water in the tomato can, swish it around and add it to the pot (don't waste a bit!).
To make the meatballs, combine the breadcrumbs, lemon zest, parsley, thyme and rosemary with the reserved onion mixture. Add the turkey and egg and mush it all with your hands (the best tool for this job) just until everything is well-combined, don't over mix. Form the mixture into 1-1/2" balls with your hands (of course you can make them whatever size you like). Heat the last two tablespoons of olive oil in a large nonstick skillet over medium-high heat. Making sure not to overcrowd the pan, brown the meatballs (should take about five minutes). Put the browned meatballs into the simmering tomato sauce and let them cook, shaking the pot occasionally to roll the meatballs around, for at least 20 minutes and up to an hour and a half. Taste the sauce and season with salt and pepper. Serve with spaghetti and the torn basil.
STEAMED PEAS
SERVES: 4
TIME: two to three minutes
2 cups freshly shelled or frozen peas
1 tablespoon olive oil
a squeeze of lemon
a pinch each of coarse salt and pepper
a few leaves of basil, torn
Steam the peas for two to three minutes. Serve plain for the kids and dress with olive oil, lemon, salt, pepper and basil for the adults.